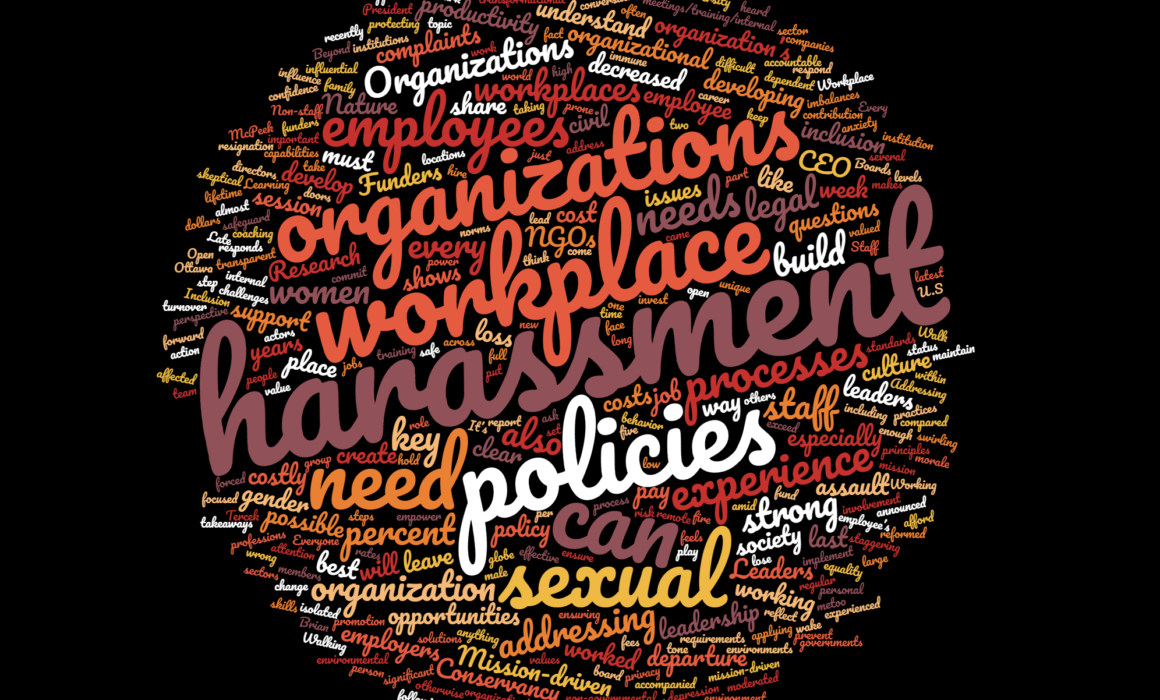 Late last week, Nature Conservancy CEO Mark Tercek announced he would step down, the organization's latest departure in the wake of an investigation into sexual harassment and workplace misconduct. His departure came one week after the resignation of Nature Conservancy President Brian McPeek amid swirling complaints about workplace culture.
Workplace sexual harassment and assault are wrong. And, they are costly — both to those who experience it and to employers. Between 25 and 80 percent of women in the U.S. will experience workplace sexual harassment in her lifetime. Working in geographically isolated environments and male dominated professions makes employees more prone to harassment and assault, as does not having legal status and working in workplaces with significant power imbalances (from my perspective, that is almost every workplace).
Employee cost is staggering and personal: depression and anxiety, loss of confidence, decreased opportunities, forced job change, unemployment, and career abandonment. Research shows that 80 percent of women who experience sexual harassment leave their jobs within two years (as compared to 50 percent otherwise).
There is also a large cost to employers: loss of talented employees and their skills, legal fees, retraining costs, high turnover rates, low morale, and decreased productivity. Research shows that companies lose $28,000 (in 2018 dollars) in productivity per each person working on a team affected by harassment.
No sector or workplace can afford these costs. Every institution is at risk and must take action. Mission-driven organizations, like civil society organizations, humanitarian and development organizations, and governments are not immune. In fact, there have been well-publicized incidents in these sectors over the last several years.
I recently moderated a session with civil society leaders at the Open Government Partnership Summit in Ottawa. We focused on the following questions:
What has worked to prevent, and respond, to workplace sexual harassment, especially in mission-driven organizations?
What can influence organizational leaders who are skeptical?
How can you build strong support at all levels of an organization for addressing these issues?
How can an organization create and maintain a supportive environment for those who come forward?
During this session, we heard from women who had experienced workplace harassment, and from organizations that have reformed workplace policies. Here are five takeaways:
Organizations need both strong leadership and staff engagement: Leaders and managers set the tone for how an organization responds to anything, including sexual harassment. Leaders need to also empower and involve staff in developing solutions. These staff-driven conversations can be transformational and lead to policies that exceed legal requirements and create new norms.
Organizations need to invest in internal capabilities, develop clear processes and safeguard those who report. Organizations need to have full time HR staff, clear standards for behavior, policies and processes for addressing complaints, and effective training. They also must support those who experience harassment, and not just address those who commit it. Everyone needs to understand the process and it must be as transparent as possible while protecting privacy.
Non-staff actors, like board members and funders, play a key role. Boards of directors hire and fire organizational leadership. In doing so, they must hold the organization's CEO accountable for policies she has put in place — or not — on this key topic. Not addressing workplace harassment is disrespectful to employees, is costly and undermines the organization's mission. Funders are especially influential in the non-governmental world as NGOs are dependent on them to keep their doors open. Funders need to pay attention, ask questions about what policies are in place, and fund organizations to develop safe workplaces.
But, having a sexual harassment policy is not enough. Addressing harassment needs to be part of developing a workplace culture that values every employee's contribution. This includes policies that reflect how an organization values employees, such as equitable pay and promotion policies and family leave policies. This should be accompanied by regular meetings, training, and conversations on gender policy and other inclusion policies.
Learning from others is key. It's important to share best practices and understand how other NGOs and institutions are applying gender equality and inclusion principles. Mission-driven organizations, often with employees across the globe in remote locations, face unique challenges. There needs to be a way to share what has worked, and build in opportunities for coaching.
These can be difficult issues, but taking steps to build strong processes, implement them, and ensure that every employee feels valued will go a long way to ensuring a workplaces where people can do the best job possible.