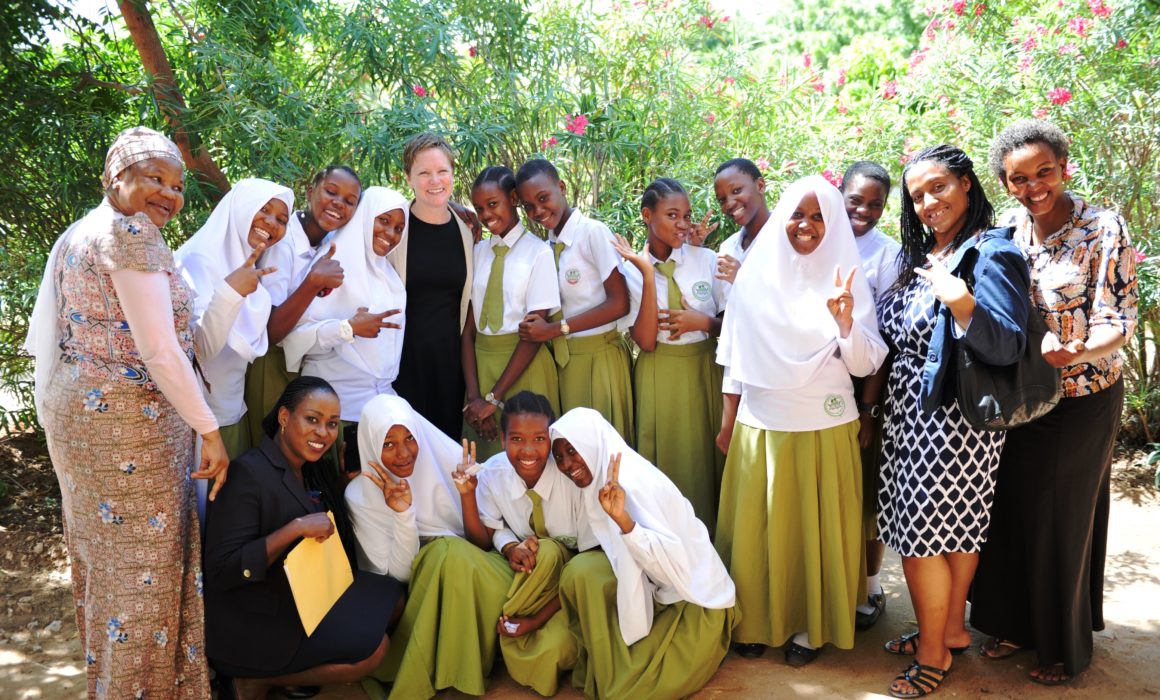 In many discussions,  the term "gender" is often used interchangeably with "women and girls."  These concepts both get at gender norms and roles, but are different. Here's a overview of these terms and how they differ. In short, we've learned that gender equality is are not just about women or girls, but about the different ways women and men experience their lives, have access to resources and can take advantage of opportunities. It broadens our perspective, so that policies and programs take into account those differential experiences of women and men, and address structural constraints to gender equality. Importantly, taking gender into account also encourages programs to include men and boys – political, business and religious leaders as well as husbands, brothers and fathers  – because their gender or social roles will also change.
While "sex" refers to the biological characteristics that define us as female or male, "gender" refers to the economic, political, and cultural attributes and opportunities associated with being male or female. How gender is defined varies among cultures and changes over time.
Gender equality is the concept that all human beings, both men and women, are free to develop their personal talents and abilities and make life choices without the limitations set by stereotypes, rigid gender roles, or prejudices. It does not mean that women and men are the same, but that their rights, responsibilities, and opportunities should not depend on whether they are born male or female.
The role of women and the idea of "gender equality" in development has changed over time. For a very long time, development programs did not take sex or gender into account. Commodities or services, such as food, healthcare or education, were provided by richer countries to developing ones without attention paid to the characteristics of the beneficiaries.
A few decades ago, discussions and program implementers began  to take into account that women might have different needs than men and/or might prioritize assistance in a different way. An example — for a long time rice was distributed around the world in 50 lb bags. While most men could haul the bags onto their backs and carry them home, the weight made collection of this food almost impossible for women. A simple change, made at women's request, made the bags of rice lighter so that women could transport them.
Next, development organizations began to consider how men and women benefited  from their programs. For instance, asking if both boys and girls were able to attend school, and what the barriers might be if there weren't equal attendance rates. Or, if an agriculture program was teaching how to improve crop yields, were both male and female farmers benefiting from that knowledge. If all of the intended beneficiaries were not being reached or the outcomes were not being reached as planned, implementers started asking questions.  
In the last ten years, technical experts have moved from a focus on women to gender. What was acknowledged was that in order to "empower" women, their social or gender roles had to change. For example, if the aim of a program is to create more women business owners in order to increase her family's income and move them out of poverty, then the program cannot focus solely on the female entrepreneurs-to-be. Training women about how to start and run a business is key, no doubt, but the program must also take into account the local laws that prevent women from having access to credit, and, very importantly, how her income will create a new balance of power within her home. We now know that when a woman, a wife, earns her own income it can change the gender roles of both the woman and her husband. If a women begins contributing to family income (when she didn't before), this can make her husband feel shame that he cannot solely support his family and lead to an increase in violence against her. And the same is true when women learn more about how their bodies function, play a greater role in politics or even stay in school a few more years.   
The United States government, particularly the U.S. Agency for International Development (USAID), has kept abreast of this growing field of gender and development just as it has with other technical fields, gaining new knowledge and improving its programs to spend U.S. taxpayer dollars more efficiently as it ends extreme poverty. USAID collaborates with other governments, private companies and implementing partners to know more and do better for women around the world.
While the gap between the number of boys and girls in primary school has been eliminated, the number of women in elected office has increased and the number of women in the formal workforce is higher than it has ever been, now is a good time to remind ourselves about the importance of these issues, how we arrived at this moment and the need to continue this critical work.