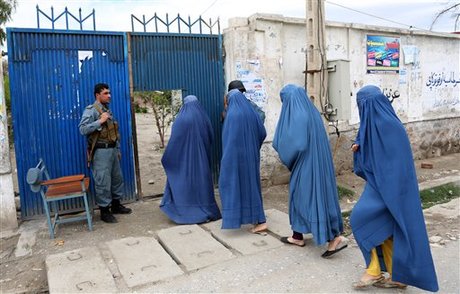 Afghanistan has two elections scheduled in the next six months: Parliamentary and district council elections on October 20, 2018 and the Presidential election on April 20, 2019. These elections, the first in almost five years, will be watched closely by Afghans and the international community. Women must have every opportunity to participate fully in every phase of the electoral process: as candidates, election administrators, observers, and voters.
In order to ensure high levels of participation and engagement, Afghan women must be at the table as election planning occurs. The Afghan government, international donors, and Afghan civil society must ensure that they weave women's perspectives and input into the strategies and tactics they are using to drive maximum participation. Electoral and governmental authorities must take concrete steps to ensure that women and men are equal participants in the Afghan political process, and must address electoral-related violence. This is essential to the credibility and transparency of the electoral process and is especially important as the Taliban is asserting itself across the country and apparently engaged in negotiations with U.S. officials.
Women in Afghanistan have made substantial progress since the fall of the Taliban in 2001, but that progress is tenuous. Women have demonstrated their commitment to public life: in the 2014 presidential run-off, 2.4 million Afghan women voted (38 percent of all voters), the highest number in Afghanistan's history. According to the Asia Foundation, over 78,000 women have been appointed to government positions since 2001. Currently, women hold twenty-eight percent of Parliamentary seats, several cabinet positions, and numerous judicial positions. However, Afghanistan remains an insecure and dangerous environment, which is difficult for all Afghans, but particularly for women and girls.
Across the globe, violence against women in the electoral process is a threat to electoral integrity. It affects women's ability and interest in participation at every level of the political process. Women can be targeted because of their political affiliations, or because they are active in politics and public life, or exercising their right to vote, still often seen as places for men.
In past Afghan elections, there have been substantial reports of violence, and threats of violence, targeted at women voters and candidates. There have been continual challenges finding enough women willing to work at polling stations, as well as a lack of women "body searchers," to ensure that individuals entering women's polling places are indeed women and not armed. There have been numerous efforts to address these issues: from electoral hotlines to extra security for women candidates to decreased fees for women seeking to run. But, these issues remain prevalent as Afghanistan enters this upcoming set of elections.
What can be done?: The Afghan Independent Election Commission (IEC) must focus on recruiting women for positions throughout the electoral administration system — from headquarters to polling centers and local electoral bodies — and for both permanent and temporary positions. At the same time, registration and polling centers must be accessible, safe and secure to ensure the full participation of women voters. Voter registration processes must reach women throughout the country and ensure that the act of registering or voting does not put them in harm's way. The IEC and other relevant government entities must ensure there is sufficient security staff at women's polling centers. Women candidates, throughout the country, must feel safe as they campaign. Finally, international and domestic electoral observation missions deployed across Afghanistan must be gender-balanced to ensure that they are able to fully report on the elections and reflect the different experiences of men and women in the process. Finally, there must also be a way to capture the lessons learned from the October elections and use them in the lead-up to those in April.
As internet access and the use of social media (mostly Facebook) increases in Afghanistan, there must be special attention paid to how social media is being used to shame and threaten women who are activists and candidates, and to share false information. The Afghan government and the international community must take steps to address election-related violence which deters women from voting, working at polling stations, campaigning for office, and serving as elected officials.
Protecting the hard-won gains that women have made since 2001 is critical. This is also an opportunity to reaffirm support for women's participation and take concrete steps to increase women's ability to fully participate in these elections. The Afghan government, the international community, Afghan civil society, and Afghan citizens all have a role to play.