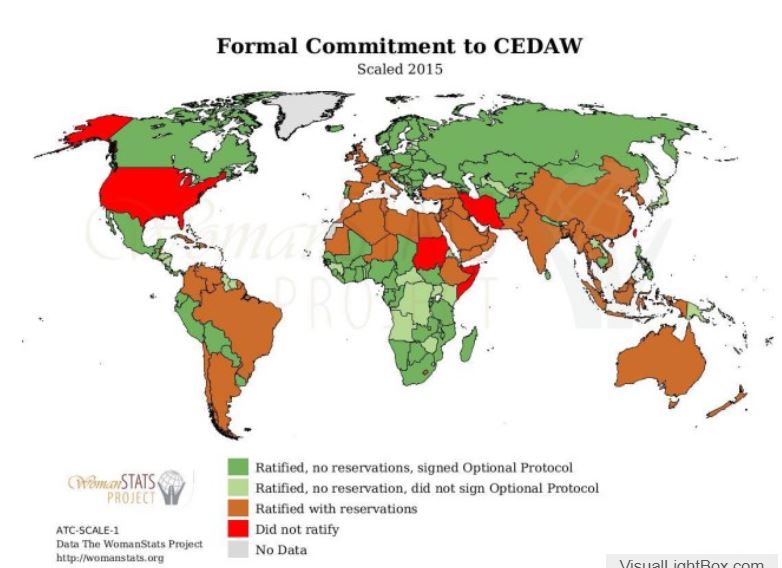 Within the Sustainable Development Goals (SDGs), or Global Goals, Goal 5 is a stand alone goal focused on achieving gender equality and empowering all women and girls.  There are nine targets for Goal 5.
Here, we will focus on SDG5, Target 1: End all forms of discrimination against all women and girls everywhere.
It is important to examine the U.S. legal framework that the U.S. to achieve gender parity, as well as the gaps that exist in that framework.  While the U.S. does have both federal and state laws and policies to address discrimination based on sex or gender, there is not a comprehensive or constitutional framework for gender equality.
The first gap is that the U.S. is not a party to CEDAW, The Convention on the Elimination of All Forms of Discrimination against Women which is often described as an international bill of rights for women, and was adopted in 1979 by the UN General Assembly.  CEDAW has been ratified by 189 states.  There are only six other UN member states that have not ratified CEDAW:  Iran, Palau, Somalia, Sudan, Togo and the Vatican.
President Jimmy Carter signed CEDAW in 1980, but despite numerous advocacy campaigns, the U.S. Senate has not yet ratified CEDAW. When ratifying the Convention, countries commit to undertake a series of measures to end discrimination against women in all forms. CEDAW is the only human rights treaty which affirms the reproductive rights of women, and targets culture and tradition as influential forces shaping gender roles and family relations. Countries that have ratified or acceded to the Convention are committed to submit national reports, at least every four years, on measures they have taken to comply with their treaty obligations.
Further, the Equal Rights Amendment (ERA) to the U.S. Constitution has not been ratified.  The ERA would ensure that rights guaranteed by the Constitution apply equally to everyone, regardless of their sex. After the 19th Amendment affirming women's right to vote was ratified in 1920, suffragist leader Alice Paul introduced the ERA in 1923. In 1972, the ERA was passed by Congress and sent to the states for ratification. The original seven-year time limit was extended by Congress to June 30, 1982, but at that deadline, the ERA had been ratified by only 35 states, three states short of the 38 required to amend the Constitution. The ERA has been re-introduced in every Congress since the deadline.
Another framework for the U.S. to consider is an overarching national plan to advance gender equality. Such a plan would provide guidance to help the government, in conjunction with non-governmental organizations, strategically work towards greater equality. The U.S. government already has several gender oriented action plans, such as the National Action Plan on Women, Peace and Security, which outlines how U.S. foreign assistance programs will help other countries increase women's leadership, and the Strategy to Prevent and Respond to Gender-Based Violence. What's needed is a concerted effort to knit these strategies together with other strategies and plans to advance the empowerment of women and girls, so that work is driven toward one set of goals.
This would complement the many, individual pieces of legislation focused on ending discrimination against women in the U.S.
The Equal Pay Act (1963) made it illegal for employers to pay men more than women performing the same job.

Title VII of the Civil Rights Act (1964) prohibits discrimination in employment on the basis of race, color, sex, or ethnic origin.

The Fair Housing Act (FHA) (1968) prohibits discrimination in the sale, rental, and financing of housing based on sex among other characteristics.

Title IX of the Education Amendments Act (1972) prohibits discrimination on the basis of sex in federally funded education programs.

The Equal Credit Opportunity Act

(ECOA) (1974) guarantees an equal opportunity to obtain credit and prohibits creditors from discriminating against credit applicants on the basis of sex among other characteristics.

The Pregnancy Discrimination Act (1978) prohibits employment discrimination against female workers who are (or intend to become) pregnant, including discrimination in hiring, failure to promote, and wrongful termination.

The Affordable Care Act (2010) stopped the

discriminated by insurance companies against women in coverage and cost, however, that provision, among others, may be repealed.
Looking at the big picture, these laws in the U.S. are a patchwork and gaps, such as with political representation, remain.
Overall, the United States ranks 49th out of 144 countries with regard to the gender-based gaps that exist in access to economic resources and opportunities, according to the 2017 World Economic Forum Global Gender Gap report.  There are ongoing advocacy efforts to have the U.S. ratify CEDAW and pass the ERA and send it back to the states for ratification.