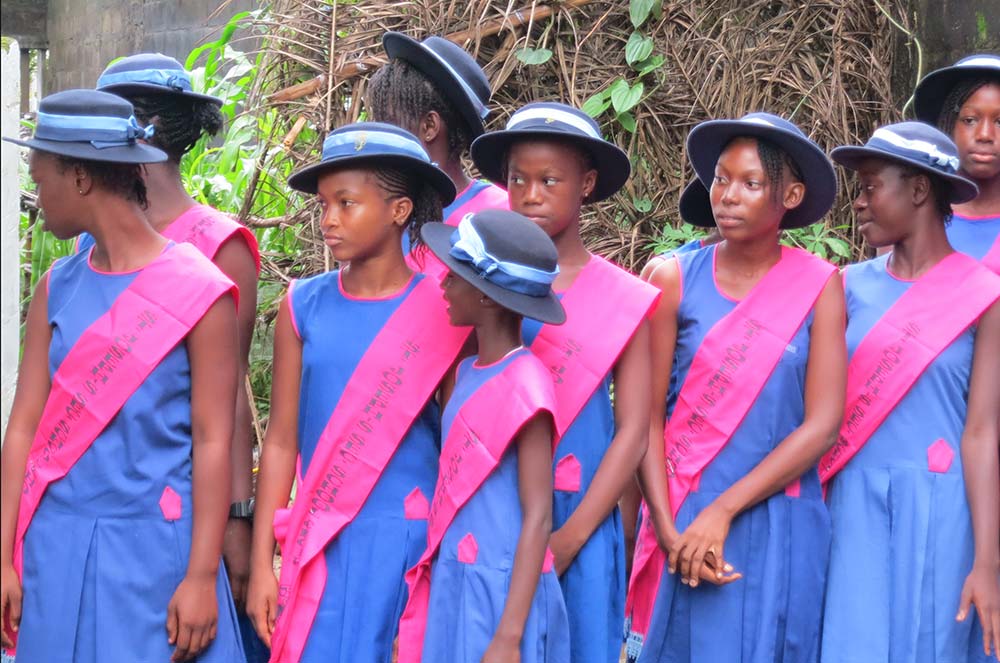 As I wrote in early November, I cannot help but to think of the many women and men who I have stood by, learned from and worked with over the past 20+ years. From my time as an advocate and working in U.S. politics, to the many women who are so brave to think about running for office in their countries as well as those women and girls not involved in public life but just working every day to make their lives better for their families and communities. I was so proud and scared and thankful on election day.
But, as well all know, things did not turn out as I expected. So I publicly mourned on social media. And you know what happened? There was a lovely outpouring of love and support for me and the work I've been doing. I was even inspired! One dear friend wrote, "I have been thinking about you the most through all of this…hang in there. And you know? The next time I say "I'm with Her" I'll be thinking about you, Susan Markham."
So after a little grief and walking in the woods, I thought, you know what? He is right. This fight for women's rights and gender equality did not begin or end with a single U.S. political campaign in 2016. Although I must thank Hillary Clinton for her years of public service, her dedication, grit and grace, the fight for these rights did not start in Beijing. It has been going on for decades across continents sometimes together and sometimes apart from organizing for civil rights, workers' rights, indigenous people's rights, LGBTI rights, etc. Women's rights cuts across political affiliation, age and ethnicity, class and ability, religion and race.
So today I am rededicating myself to this work, to our work, to this movement. And I ask you to join me. Now is the time to stand by our beliefs, share our values and lift up the work being done for women's rights and gender equality in the U.S. and around the world.
Today and in the future when I say "I'm with Her", I will mean my daughter, the four new women U.S. Senators, the girl in Tanzania trying to stay in school, the women in Yemen fighting for peace and literacy, the survivors of gender-based violence, the woman in Iowa afraid of being deported, those walking miles to fetch water, the women planting trees, creating apps, making policy, going to work and changing lives.
And I challenge you to do the same in this new year:
Contribute time or money to women running for public office. Or think about running yourself! Groups like Emerge, SheShouldRun and EMILY's List can help you learn about candidates in your community.
Reach out to organizations that work across racial, ethnic or "issue" lines to find the commonalities in our fights for equality, freedom and opportunity. Local reproductive health providers, labor unions, environmental groups and immigrant or Black Lives Matter coalitions can be found easily.
Find out who your member of Congress is and watch how he/she votes on key issues. See what members support the things you care about and thank them!
Think globally about gender and female empowerment and how you can support girls education (Circle of Sisterhood), women and peace (Inclusive Security) or democracy (National Democratic Institute) efforts around the world.
I'm with her because when women and girls have access to social, economic and political power, their communities and the world benefit. When women are empowered, they lead the way in managing the impacts of climate change. When they play an active role in civil society and politics, governments are more responsive, transparent and democratic. When women are engaged at the negotiating table, peace agreements are more durable. And countries that invest in girls' education have lower maternal and infant deaths, lower rates of HIV and AIDS, and better child nutrition.
Please add your voice to this extended chorus. At the marches going on around the country this weekend make plans to make a difference in the coming months. Post your pictures and commitments on social media with the hashtag #ImWithHer.
What does it mean to you when you say "I'm With Her"? To me, it means YOU. Onward and upward.