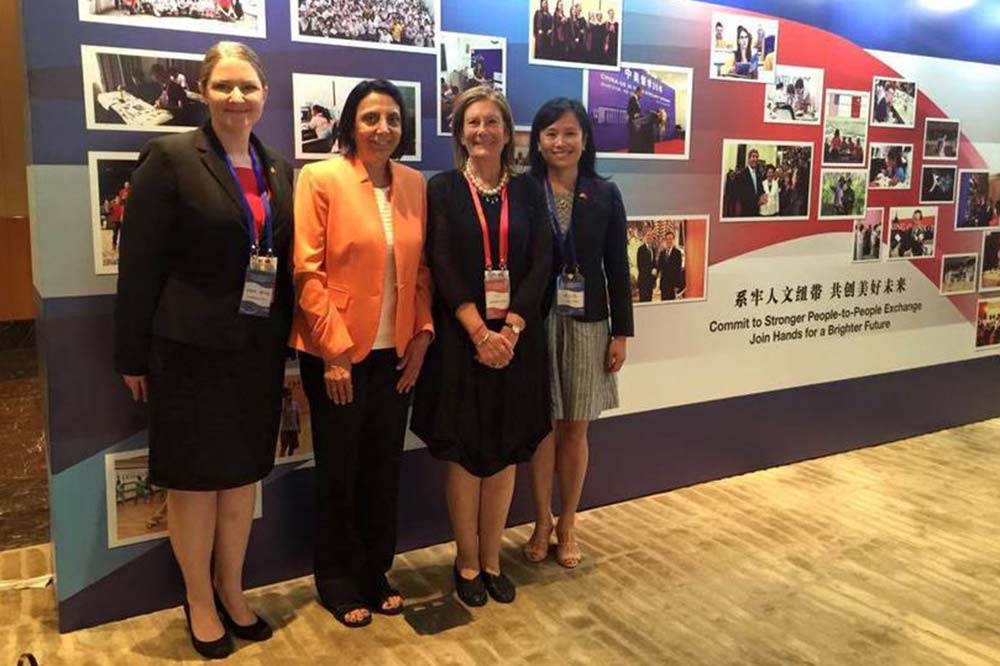 This post is written by Stephenie Foster, Senior Advisor and Counselor, and Catherine Silvey, Policy Advisor, both with the Secretary's Office of Global Women's Issues at the U. S. Department of State.
Since 2011, the United States and China have worked together on women's issues at the U.S.-China Consultation on People-to-People Exchange (CPE).  Most of this work has been through the Women's Pillar, where we have cooperated on various issues affecting women, from domestic violence to women's entrepreneurship.
At the June 2016 CPE, as in years past, the U.S. and China agreed to a number of outcomes that directly benefit women.  As members of the Women's Pillar, we were delighted to see so many of the other pillars building in work that supports women and girls, and raising awareness about gender-specific issues.  While our pillar focused on domestic violence prevention, women's leadership, and designing a women's entrepreneurship project in another country, other pillars focused on areas such as Title IX and breast and cervical cancer awareness.  A sample of the exciting work to be done follows:
The Sports Pillar plans to bring together women's sports groups and highlight the importance of women's participation in sports:
The U.S. Department of State's Bureau of Educational and Cultural Affairs will bring 18 male and female soccer coaches and athletes from Chengdu and Guangzhou to the United States for a 10-day Sports Visitors program from July 17 to 28.   This program will focus on the impact of Title IX; participants will learn how the law changed American sports, education, and society.
From July 23 to August 2, the Chinese Basketball Association will send the National Women's Team to the United States for friendly matches with their U.S. counterparts and training for the XXXI Olympic Games.
These follow exchanges held earlier in the year around women's basketball and soccer. In May, the Chinese Basketball Association sent the National Youth Women's Team to the United States for a friendly match and joint training.
Celebrating the 25th anniversary of the first Women's World Cup victory by the United States, former 1991 women's national team member Linda Hamilton and former assistant coach Lauren Gregg traveled to Chengdu, Shanghai and Guangzhou, China for a two-week Sports Envoy program focused on girls, minorities, and migrant communities.  The envoys had the opportunity to promote gender equality, women's empowerment, and the values of diversity.
The Cultural Pillar is planning to host exchanges focused on women through film, art, and other cultural programs:
"Empresses of China's Last Dynasty" is a major exhibition under discussion by two U.S. museums and the Palace Museum in China. The three institutions hope to plan a major international exhibition to examine the dynamic, increasingly influential role of imperial women at the end of China's grand imperial age, the Qing dynasty (1644-1911). It is a collaboration among the Peabody Essex Museum, the Smithsonian's Freer|Sackler, and the Palace Museum. The plan envisions that "Empresses" can be used to celebrate the 40th anniversary of the normalization of U.S.-China relations through a major collaboration between two U.S. museums that play a leading role in the presentation of Chinese culture to US audiences, with China's top-tier Palace Museum.  The expectation is to open summer 2018 in the Boston area (Salem, MA) and spring 2019 in Washington.
The U.S. Department of State is continuing to reach out to women, youth, ethnic minorities, and persons with disabilities by hosting exchanges through programs such as the American Film Showcase, American Music Abroad and the International Writing Program at the University of Iowa, as well as through cultural performances and exhibitions sponsored by the U.S. Mission at Chinese cultural and educational institutions. Such performances and exhibitions are designed to introduce Chinese audiences to American performers and entertainment genres, American history and values, and the U.S.-China relationship.
Finally, the Health Pillar continues to collaborate on breast and cervical cancer awareness:
Goldman Sachs and the All China Women's Federation will continue to promote breast cancer and cervical cancer awareness and enhance capacity at the provincial level with support from the National Health and Family Planning Commission of China and the Department of Health and Human Services of United States.
We applaud our colleagues and counterparts on this innovative work, and look forward to seeing future collaboration on programs that benefit women and girls.