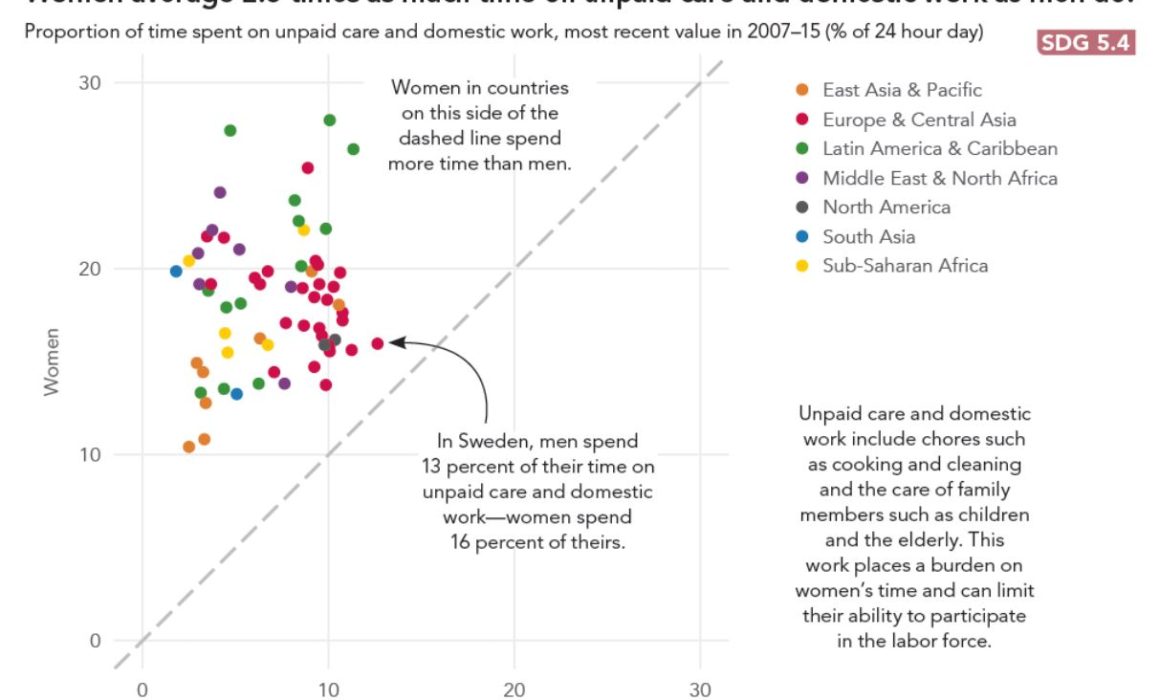 Within the Sustainable Development Goals (SDGs), or Global Goals, Goal 5 is to achieve gender equality and empower all women and girls. For Goal 5, there are nine targets. In this blog post, we will focus on SDG5 Target 4, which focuses on the value of unpaid care and domestic work and the promotion of shared responsibility within the household and the family.
The prevalence and invisibility of unpaid care work in the U.S. and abroad makes acknowledging and tracking data critical to developing policy solutions.  UN Women's "Progress of the World's Women Report" acknowledges that "Domestic work makes all other work possible"—and this is true regardless of whether that work comes from domestic workers or unpaid family caregivers. The labor of domestic workers is critical to the function and growth of national and global economies." (Source)
Unpaid care and domestic work are barriers to reaching gender equality as they reinforce discriminatory gender stereotypes that force women to stay in the home and limits participation in the public sphere, (Source) and contributes to the persistent gender gaps in labor force participation, activity rates, and wages. In terms of numbers, women comprise the majority of domestic workers, accounting for 80 percent of all workers in the sector globally; which means that approximately 55 million women participate in domestic work. (Source) There are at least two million domestic workers in the United States, and most of them are African American or immigrant women.
Around the world, women spend two to ten times more time on unpaid care work than men. (Source) According to a 2014 OECD study, women and men in the United States also spend their time differently. While men spent an average of 19 minutes per day caring for a family member, women spent 41 minutes. While men spent an average of 82 minutes per day doing "routine housework", women spent 126 minutes. (Source)
One way to recognize and value unpaid care and domestic work is by creating more public services that can take care of the family care and household duties that are now disproportionately done by women. The United States remains the only country in the developed world that does not mandate employers offer paid leave for new mothers, according to the Organization for Economic Cooperation and Development. Twenty-five years ago President Bill Clinton signed the Family and Medical Leave Act, which included a provision giving eligible workers 12 weeks of unpaid leave to care for a new child. (Source) Because of the lack of support at the federal level, states and the private sector are now starting to address the issue. As of May 2018, twenty-one states had pending legislation for paid leave laws, in addition to the five states and District of Columbia that have paid family leave laws already. (Source)
Further, the U.S. Government also does not provide for child care, and quality child care is often very expensive. In a 2016 report, the cost of infant child care in 49 states plus the District of Columbia exceeded seven percent of the state median income for a two-parent family. (Source) Daycare is also often hard to find. A report from the Center for American Progress (CAP), found that 51 percent of the population in 22 states resides in "childcare deserts." In those neighborhoods, the number of children under age five outnumber available daycare slots more than three to one. (Source)
Another way to reach this target of Goal 5 is through the provision of infrastructure and social protection and the prevention of abuse of those who work in the care sector.  Of the 67 million domestic workers worldwide, 60 million are excluded from social security coverage. In the U.S., while the infrastructure for domestic work, such as access to clean water and availability of household appliances, generally exists, laws protecting domestic workers are often not enforced, or domestic workers are excluded from certain legal protections. (Source) As a result, beginning with New York in 2010, eight U.S. states (Hawaii, Illinois, Massachusetts, Connecticut, Nevada, Oregon and California and New York) have passed Domestic Workers' Bill of Rights, which protect workers from racial discrimination and sexual harassment, provides for one day off a week, and overtime and paid leave. Other states have yet to catch up. (Source)
Finally, in order to reach this SDG target, governments can actively promote shared responsibility for care and domestic work. From what I can find, the U.S. government has never had a campaign to increase the burden sharing for unpaid care and domestic responsibilities. There was a three- year "Make it Work" campaign centered around the 2016 U.S. elections that asked candidates to focus on child care, pre-Kindergarten and elder care; pay transparency and the fight for a higher, national minimum wage; as well as paid family and medical leave, earned sick days, fair scheduling, and workplace fairness for pregnant women. Family Values@Work is a network of coalitions in 21 states working to pass policies that value families at work such as paid sick days and affordable family leave.  These policies are not only good for individual women and families, but provide support on a policy level for a more equitable division of labor and family responsibility.